---
Courses in Tuscan Cuisine Cooking
---
For beginners and self-taught experts alike, whatever your level of competence, our cooking courses are for you. Thanks to the various types and duration of the courses, each one guarantees a total immersion in the culinary tradition that is closest to your heart, both at our base at Gaiole in Chianti or at your home.
---
Have a look at the courses
---
Teaching Tradition
---
At the B&B Eroico you will have the opportunity to learn the basics of Italian cuisine and above all the typical, traditional Tuscan recipes. Pappa al pomodoro (a substantial soup of bread and tomato), pici all'aglione, brasato al Chianti, peposo, cantuccini: these are some of the many dishes that you can cook and enjoy.
---
3-hour course
---
Short intensive course lasting three hours to get familiar with the simpler dishes, typical of Tuscan cuisine.

These would include an appetizer, a first course with handmade pasta together with its sauce, a second course or a dessert. As an alternative, it is possible to choose a trio of first courses: tagliatelle, pici and a type of stuffed pasta.
---
---
Half Day Course
---
This solution, for those who have more time available, involves the creation of an appetizer, a hand made first course with a sauce, a second and a dessert, always using traditional Tuscan culinary methods.
---
---
Three-days course
---
The course lasts three hours each day and the lessons are divided as follows: the first day will be for starters, the second day for two first courses of handmade pasta with combined sauces and a typical soup, while the third day involves the preparation two main courses of meat and a typical dessert.
---
---
Five Days course
---
This course includes: the first day various starters, the second day, three first courses with their sauces, the third day, three types of meat with side dishes, the fourth day, three typical Tuscan desserts, while the fifth day will be dedicated to leavened food such as pizza, breadsticks, bread, leavened cakes. For all dishes attention will be paid to presentation, just like in the restaurant.
---
---
Intensive course
---
The art of cooking from A to Z: from the basics of the kitchen to the desserts, for those who want to start getting familiar with the culinary art or those who want to widen their knowledge of our typical Tuscan cuisine. This is a long course and will be divided into several days, for a total of two or three days a week for about two months. The duration will, however, be decided based on the customer's particular requirements.
---
--- THE CHEF
---
Dinners at home
and cooking classes
---
In addition to the courses, the chef is available to prepare dinners at your home, avoiding the hassle of going out to the restaurant; this allows you to experience the pleasure of inviting friends and relatives to your home without worrying about laborious preparations. Your guests will be able to enjoy the typical delicacies of Tuscan cuisine at home, for an important event such as a birthday, an anniversary or a surprise dinner, tasting wines without the problem of driving afterwards.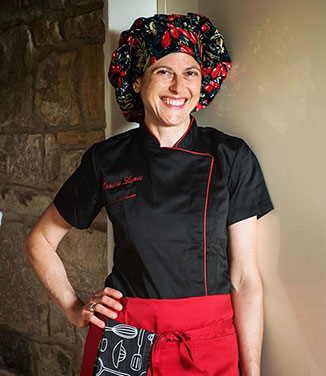 The Chef
---

---
Monica Lapis
---
Monica Lapis was born in Radda in Chianti into a very large family; she is currently married and has two daughters. Her passion for cooking has been handed down to her by her paternal aunts, initially as a hobby, but over time has developed into a real and dedicated profession.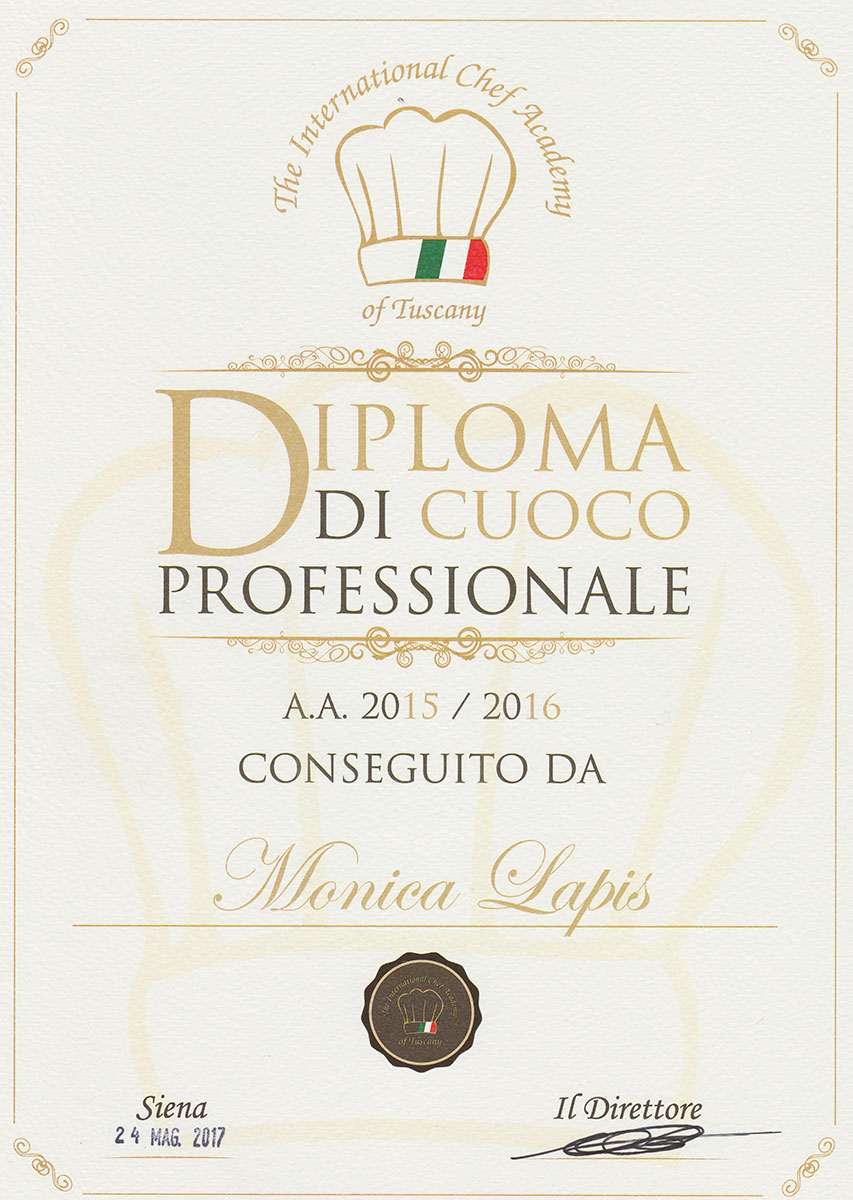 The Experience
---

---
The key to a high-level cuisine is experience. The chef Monica Lapis, thanks also to her Level Three Diploma awarded by the International Chef Academy of Tuscany obtained between 2015 and 2016, guarantees years of profession and passion that is transmitted to her clients and students.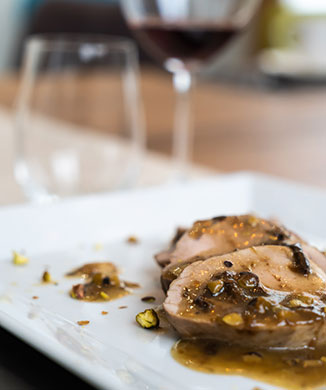 The Tradition
---

---
Tuscan cuisine is rich in intense flavors, but they must be expertly and carefully enhanced. The chef and our courses will aim to bring to your palates the ancient flavors of a remote but ever-present tradition, which Monica inherited from her family.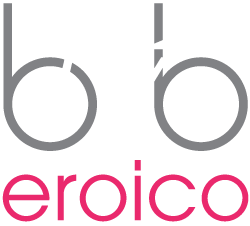 THE LOCATION
---
In the heart of Chianti Classico
for and adventure holiday
---
Co-existence of tradition and modernity
Come and discover Chianti, in addition to our cooking classes, you can stay in our B&B and enjoy a romantic escape from city stress.
Tuscany and the Chianti area are not only famous for the landscapes and wines, but also for its consolidated culinary tradition. Each room, characterized by its own colour, is equipped with all modern comforts: heating, air conditioning, kettle with crockery, USB port, wifi, TV with international channels. Furthermore the rooms and bathrooms are soundproofed to best preserve your privacy.
A bed with a memory mattress and a wooden headboard, hanging lights to illuminate the two bedside tables, a wooden wardrobe with two doors and a writing desk make up the furniture, common to all the rooms. You can also book with us your guided cycle tours and trips, for the entire day or half day, depending on your level of fitness, under the expert guidance of Gian Marco Ceni, qualified MTB instructor and Cycling Guide.

B&B L'Eroico
Via Marconi 19,
53013 Gaiole in Chianti
(SIENA)

Call:
+39 389 486 2285
---
Email:
info@eroicochianti.it